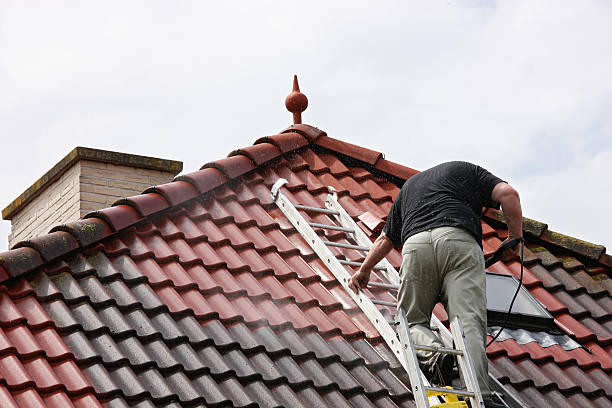 Professional Roof Cleaning
As a professional roof cleaning company in Kansas City company, Southern Clean Pressure Washing can remove those ugly black streaks and roof strains from your house. We can make your roof look brand new again for a fraction of what it would cost to replace it. Our roof cleaning process is 100% eco-friendly and bio-degradable. We use low pressure (under 100 psi) and high volume rinsing paired with our cleaning solutions to rid your roof of harmful algae and spores. During our roof cleaning projects, we do not use harmful acids, heavy metals or any other solutions that could damage your structure or the vegetation around it.
When it comes to our soft washing roof cleaning methods, we do not use any high pressure, which could damage your shingles and affect the long term performance of your roofing system. All shingle roof manufactures recommend cleaning with low pressure. High pressure can create premature granule loss and exposure of the weathering layers of your shingle, along with many other destructive issues. Southern Clean Pressure Washing, we use only the best equipment and the best material from leading manufactures.
You may not think about cleaning the roof of your home, but insurance companies now say you should to avoid the loss of coverage. Several insurance companies will cancel your policy due to a dirty roof. Southern Clean Pressure Washing cleaning services and maintenance programs will give you the peace of mind that your big investment is not in jeopardy of becoming un-insured.
Southern Clean Pressure Washing doesnt just clean the roofs of Kansas City homes. We provide a variety of services, and we can professionally clean and restore almost any other area of your property. We specialize in roofs, siding, fences, patios, walkways and much more.
Why We Provide Soft Washing of Roofs
Soft Washing is the only recommended method of cleaning and restoring your roof. Both the professional Power Washing community as well as the leading roofing material manufacturers, advise against Power Washing a roof to remove algae and moss.
The Soft Washing method uses safe, environmentally friendly cleaning detergents to kill the algae and moss growth deep within the asphalt shingle, where power washing cannot reach. It eliminates the damaging effects that power washing has on delicate building substrates, such as asphalt shingles.
Why Choose Us for Roof Cleaning in Kansas City
We provide what is known in the Professional Power Washing industry as "Soft Washing". This is a method which utilizes minimal pressure at all times, especially on delicate substrates that can easily be damaged with high powered pressurized water cleaning. Not all surfaces can handle high pressure.
Soft washing is the only method to clean your substrates and surfaces without the risk of irrevocable damage. SOUTHERN CLEAN is licensed and insured for our customers peace of mind. All crews are fully trained in all facets of Power Washing including Occupational Health & Safety & follow a strict environmental policy created to comply with EPA Legislation which governs the Pressure Washing industry.