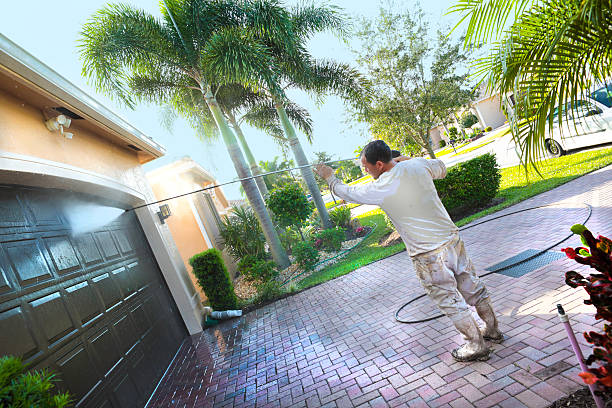 House Washing
We use the Soft Wash methodology of Professional House Washing in Kansas City, known in the industry as the standard of professional Power Washing companies. We use only environmentally friendly cleaning agents, we practice safe work methods and we can clean and restore all surfaces and substrates.
We clean: brick, stucco, vinyl siding, aluminum siding, stone, wood, metal, glass, perspex, fly screens, window frames, gutters, eaves and much more.
Power Washing involves using hot water at a steady flow to rid your home of dirt, mold and other particles. It is the temperatures of the water that determines whether or not your home will be cleaned by power washing. Our technicians have the proper training with this heavy equipment to safely clean the exterior of your house by using our high-tech power washing services.
The exterior of your house takes a beating from the sun, rain, wind and hail. It doesn't take long for your house to start to look dirty, grimy or even moldy. A professional house washing service can completely changes the exterior appearance of your house. Our professionals have the skills to power wash all types of surfaces.
While we recommend soft washing you house to avoid damages, other areas of your house require a heavy wash from a power washing system. Areas such as a walkway, a driveway, a patio, a deck or a fence can benefit from our power washing service. Our professionals have the skills to safely handle heavy machinery such as a complex power washing system. When you take advantage of our house wash and exterior cleaning services, your house will be the highlight of the neighborhood.
Why Choose Us for House Washing in Kansas City
Our experience and expertise speaks for itself. When you need a professional pressure washing service performed on your home or business then look no further than Southern Clean Pressure Washing. Properly pressure washing any surface requires you know what pressure washer to use, which chemicals to use for each surface and most importantly how to handle a pressure washer and not cause damage to the property. Pressure washing machines can cause severe bodily and structural harm when handled by a non professional. So give us a call or schedule a free estimate online today to get started on having your property properly pressure washed.