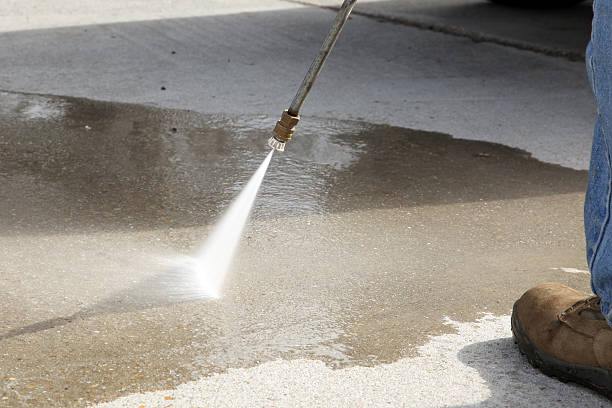 Concrete Cleaning
Southern Clean uses state of the art, sophisticated equipment that are designed to evenly and quickly clean brick and concrete surfaces. We have been fighting grime and dirt for over 15 years.
Situated in the heart of Kansas City, our fantastic pressure process does a better job of concrete sealing and concrete cleaning. Thanks to our well-trained professionals that transforms your patio and driveway from an eyesore to a fascinating place.
Why not message or call us today to have your concrete area sparkling clean.
Why Trust Southern Clean
Pressure washing concrete is more complicated than it looks. And if care is not taking, leaving your concrete in the hands of unseasoned employees can cause unrepairable damage to your valuable asset. Wrong pressure application and wrong spraying can further complicate your concrete stain and, at worst, make it crack. That's where we come in.
At Southern Clean, we handle concrete cleaning with attention and precision. We avoid dangerous chemicals like caustic soda and damaging pressure levels that further stains and damage the cement. We carefully manage the concrete surface, leaving it sparkling clean and in the best shape possible.
We concrete clean Kansas City homes, commercial businesses with winning power washing, superior cleansers, time-tested expertise, and professional equipment to eliminate dirt and grime.
Testimonies
The experience was excellent. Their pricing was pocket-friendly. I highly recommend (Name, Area)
We required three crews to clean 10,000 sq. ft. of an underground parking lot. They showed up on time and worked very efficiently (Name, Area)
You may add more if you have.
Commercial Concrete Cleaning
There isn't a job out there that Southern Clean can't handle. Talk of theme parks, parking facilities, hospitals, and so many other commercial businesses in Kansas City. In addition to removing debris and dirt from your concrete surface to increase the aesthetic value of your property, we also shield your valuable asset from the destruction caused by algae, mold, mildew, and other dangerous contaminants.
We handle all aspects of outdoor surface cleaning, from commercial roofing, bricks, and concrete.
Remember, your property says a lot about your business. Why not get in touch with us today to help you attract and keep your business flourishing with a great looking surrounding.
The exterior of your house takes a beating from the sun, rain, wind and hail. It doesn't take long for your house to start to look dirty, grimy or even moldy. A professional house washing service can completely changes the exterior appearance of your house. Our professionals have the skills to power wash all types of surfaces.
While we recommend soft washing you house to avoid damages, other areas of your house require a heavy wash from a power washing system. Areas such as a walkway, a driveway, a patio, a deck or a fence can benefit from our power washing service. Our professionals have the skills to safely handle heavy machinery such as a complex power washing system. When you take advantage of our house wash and exterior cleaning services, your house will be the highlight of the neighborhood.
Why Choose Us for Concrete Cleaning in Kansas City
Our experience and expertise speaks for itself. When you need a professional pressure washing service performed on your home or business then look no further than Southern Clean Pressure Washing. Properly pressure washing any surface requires you know what pressure washer to use, which chemicals to use for each surface and most importantly how to handle a pressure washer and not cause damage to the property. Pressure washing machines can cause severe bodily and structural harm when handled by a non professional. So give us a call or schedule a free estimate online today to get started on having your property properly pressure washed.